Webinar Series: Technical (Insurance)
Engineering Claims Handling – Practical Guide
Tuesday, 30 March 2021 
10.30 a.m. - 11.30 a.m. (MY Time)

In this webinar, there will be practical sharing of case studies in engineering claims management and real life examples of how adjusters approach different technical issues arising from different claims circumstances.
Speaker Profile:
Vince Teh

A Civil Engineer by practice, Vince is a Fellow of the Australian Institute of Chartered Loss Adjusters (FCLA).

Graduated from University of British Columbia (Canada), Vince worked as a Civil Design Engineer at T.Y.LIN SEA Pte Ltd in Singapore before relocating to Hong Kong/China as an Assistant General Manager for a production plant involving electronics and electrical appliances. In 2006, Vince completed his MBA at University of Hong Kong before returning to Malaysia. He has over 15 years of loss adjusting experience specializing in Construction & Engineering losses.

His Professional Qualifications includes an MBA, BASc (Civil Eng), FCLA, ANZIF (Snr Assoc), CIP, Dip FS.

Please click here for more details

James Grima

James trained in the UK Construction Industry as a building surveyor and read Building Surveying at Leeds Beckett University before joining the loss adjusting profession in 2010. He relocated to Hong Kong in 2013 where he has since specialized in Construction and Engineering, gaining extensive experience in handling and managing a wide variety of significant losses in the civil engineering, buildings, rail industry, and constructional plant sectors.

As Director of Construction & Engineering, James retains a wide-ranging portfolio of CAR/EAR and operational engineering claims and heads the Hong Kong and Macau Construction & Engineering operation with responsibility for overall technical delivery and development.

Please click here for more details

Registration Fee:
MII Members: Complimentary
Non Members: RM 50.00
Vince Teh,
General Manager – Engineering
Charles Taylor Adjusting

James Grima,
Director – Construction & Engineering
Charles Taylor Adjusting

MII Webinar Series
Engineering Insurance – A Journey Through Challenges, Changes and Opportunities
Tuesday, 23 March 2021 
4.00 p.m. - 5.15 p.m. (MY Time)

The world of Engineering Insurance is fascinating and challenging at the same time. This includes mega-projects with immense investment amounts, new developments and technologies in construction/processes/machinery, cyberattacks, pandemics, climate changes, losses and changes in the insurance market. These events, activities and processes require our permanent ability to learn and adapt, as well as our knowledge and flexibility to cope with new challenges to find insurance solutions whilst always considering a reasonable exposure control.

Let's take a journey through the last 12 months of Engineering insurance and talk about developments, challenges, changes and opportunities.

Speaker Profile:
Swen Vetters graduated from the University of Munich, Germany as a Mechanical Engineer and worked several years as a Quality and Commissioning Engineer in various European countries. His career in the reinsurance industry started in 1992 when he joined Munich Re as an Engineering Underwriter and Risk Manager with international assignments in Paris and London. In Munich, he took the role of Regional Engineering/Property Manager for the Middle East and North African markets.

In 2004, Swen was assigned to Munich Re Singapore Branch as Chief Engineer and was responsible for the Engineering and Property business in South East Asia. In 2009, he built the Singapore hub for Munich Re's CIP (Corporate Insurance Partner) and was the Regional Head for Asia Pac Engineering and Property business. Since 2019, Swen leads Munich Re's worldwide corporate and non-traditional Power business in Munich.
Registration Fee:
MII Members: Complimentary
Non Members: RM 50.00
Mr Swen Vetters


MII Webinar Series
Medical Intelligence to Contain Insurance Fraud
Friday, 12 March 2021 
2.30 p.m. - 3.30 p.m. (MY Time)

Dr C H Asrani has over four decades of active clinical practice and over two decades of experience in training insurance professionals (underwriting and claims for both life and health insurance). A renowned expert in this area, Dr Asrani is one of the first Indian medico entrepreneur to devise cloud-based fraud prevention solutions for insurance companies in India (
www.inches-insuretech.com
). He has had two stints with the World Bank as the Senior Health Insurance Consultant and helped with capacity building and medical audit processes. Dr Asrani's various blogs and white papers on Insurance Fraud (https://inchesgroup.in/publications/) makes for insightful reading.
In this webinar, Dr Asrani will be sharing his experience and perspective on empowering insurance professionals to better manage risks and how prudent application of updated quasi medical knowledge is important in loss containment; be it life, health, CI, accident or motor liability insurance.

Speaker Profile:
A Diplomate of National Board (Family Medicine) with MBBS, Dr Chander Asrani has over four decades of clinical practice, with a growing stream of Family & Corporate clientele. He offers both acute and chronic disease management with preventive and digital consulting, which makes up a large part of his practice. For the past 18 years, Dr Asrani has been one of the pioneers in disseminating wellness and preventive health information, both on mass media and social media.
He is also one of the first medico entrepreneur to devise cloud-based fraud prevention solutions for insurance companies in India (
www.inches-insuretech.com/
). He is now on an expansion drive to extend his company's service innovative solutions internationally. The solutions include medical insights for underwriting, rational claim adjudication, medical processes architecture, clinical audit of claims & underwriter/ claim assessor trainings. Dr Asrani's group of companies have also developed Intelli-Claims, a proprietary tool for medical adjudication of claims using standard treatment guidelines and rule-based analytics.
He has conducted over 300 training sessions (for family physicians, corporates and insurers) both at national and international fora on managerial skills for practicing medicos, stress management and emotional intelligence, wellness and insurance fraud management.
Registration Fee:
MII Members: Complimentary
Non Members: RM 50.00
Dr C H Asrani,
Family Physician (since 1977), Digital Consulting,
Medicine, Health & Stress Management Training,
Corporate Healthcare Advisor

MII Webinar Series
Empowering Intelligent Customer Experiences
Thursday, 11 March 2021 
1.00 p.m. - 2.00 p.m. (MY/SGT)

Customers are increasingly expecting better, more personalized service from financial institutions. Service providers that best engage their customers across all platforms and provide differentiated, personalized, and delightful experiences have a competitive edge. ​
How can your organization best leverage data and innovative technologies to attract and keep customers? ​
In this live webinar, join industry experts to discuss best practices on how to:
Enable true omni-channel engagement
Enhance a single customer view with real-time insights from rich data sources
Automate and transform the customer experience with technology
Enhance the engagement experience with AI, conversational intelligence and cognitive capabilities


Reimagine Financial Services Webinar Series
Tighten Your Shoelaces: How the world's leading companies defend and grow their brands during a crisis (And, how you can too!)
Wednesday, 10 March 2021 
11.00 a.m. - 12.00 p.m. (Malaysia Time)

Two hikers were walking through the woods when, suddenly, they encountered a huge, angry bear, ready to devour them. The first hiker immediately bent down to tighten his shoelaces – obviously ready to make a run for it. The second hiker looked at his companion in disbelief and yelled "What the hell are you doing? You can't possibly outrun a bear!" The first hiker, having tightened his shoelaces, took off at a brisk sprint and yelled over his shoulder "I don't have to outrun the bear, I just have to outrun you!" The point of this business fable is simple. In crisis scenarios, organizations that "tighten their shoelaces" and take bold, decisive and agile steps have a better chance of surviving than organizations that throw up their hands in despair and do nothing. 
While your business may not be able to singlehandedly go toe-to-toe against a bear of a crisis and wrestle it to the ground, you can win the day by outrunning competitors who may be slower to react. The bear will devour your competition while you live to fight another day. It isn't necessarily the biggest, strongest, most intelligent or fastest of the species that survive – the ones who survive will be those that adapt most quickly to the changes in their environments.
The same principle is true in business. The organizations most likely to survive health crises, financial downturns, destructive acts of nature and other challenges may not necessarily be the biggest, the most well-funded or the ones with the highest stock prices. The organizations that survive will be the ones that adapt most quickly to the changes in the market and to the needs of their employees and customers. This webinar is designed to help provide the members of The Malaysian Insurance Institute with practical tips on how they can defend and grow their brands during the current crisis of the coronavirus pandemic and how they can proactively prepare for potential crisis in the future.


Below is a proposed course outline for the webinar. The webinar will cover many key concepts that will be "brought alive" by utilizing practical examples and stories of companies that have defended and grown their brands by 'tightening their shoelaces'. The webinar will cover the following key principles:
Adapt or die!
Sharpen your branding 'Axe'
Start with the end in mind
It takes a 'village' to raise a brand
Change the battlefield: Repurpose, reinvent and Re-engineer
Repositioning your organization? Align your HR and marketing teams
Watch your step!
Speaker Profile:
Ron Johnson is co-founder and Managing Director of Blueprint Creative, one of the Caribbean's leading strategic branding agencies. Ron has over a decade of practical, hands-on experience helping companies build stronger brands and stronger businesses. While
Ron is passionate about all aspects of branding, he is especially passionate about helping companies build company cultures where hard work, fun and profitability can happily co-exist.

Please click here for more details
Registration Fee:
MII Members: Complimentary
Non Members: RM 50.00
Ron Johnson,
co-founder and Managing Director,
Blueprint Creative

MII Webinar Series
Settling Claims at FNOL (First Notification of Loss)
Friday, 5 March 2021 
3.30 p.m. - 4.30 p.m. (Malaysia Time)

Opportunities in improving the handling of high volume, low value claims through process improvement, automation and SpeedClaim adjustment.  
Speaker Profile:
Wee Loon is well-respected in the loss adjusting profession with over 35 years of insurance industry experience. He has a solid record in managing large and complex claims particularly on property and natural resources lines of business spanning across 14 Asia Pacific countries.

Prior to joining CTA, Wee Loon was Regional Vice President of a major global insurance group, managing numerous multi-million losses in the region and providing claims leadership for APAC.
He is a former president of The Singapore Insurance Institute, serving three terms from 2011.

Professional Qualifications
Fellow of The Singapore Insurance Institute
Associate of the Chartered Institute of Arbitrators, ACI Arb.
Associate of the Malaysian Insurance Institute, AMII
Associate of the Chartered Insurance Institute, ACII
Fellow of the Chartered Institute of Loss Adjusters, FCILA
BA Economics (Hons) – Nottingham University

Please click here for more details
Registration Fee:
MII Members: Complimentary
Non Members: RM 50.00
Yong Wee Loon
CEO Property & Casualty, Asia
Charles Taylor Adjusting

MII Webinar Series
Recharting Customer Experience in the Age of Customer Freedom
Tuesday, 2 March 2021 
11.30 a.m. - 12.30 p.m. (EST)

This past year, businesses had to sprint to meet consumer expectations. 2020 brought on amazing digital transformations, proving that change happens during chaos.

Today we are operating in a Business-to-Everyone world, where B2B and B2C are almost one in the same. Meeting your customers needs where and when they arise, is essential.

Is your business ready to rechart Customer Experience to meet tomorrow's expectations?

Join Adrian Nash, Head of Strategy of SAP Customer Experience, and Jeremy Gutsche, Author and CEO of Trend Hunter, to explore how brands that invest in customer experience are more resilient and future-ready.

1 Hour Webinar: Keynote, Fireside Chat, followed by a Q&A:
How to invest in your customer needs
What's the future for brands?
How to get ahead with data-driven trends
Speaker
Jeremy Gutsche, Author and CEO of Trend Hunter
Adrian Nash, Head of Strategy, SAP Customer Experience

Trendhunter Webinar Series
Latest Technology to Assist With Remote Site Visits & Inspection
Wednesday, 24 February 2021 
4.00 p.m. - 5.30 p.m.

Topics to be presented:
3D walk-through
Latest assistive technology
Remote site visits
Pre-risk surveys and loss assessment
Application in post-pandemic environment
Speaker Profile
Sujen is a Forensic Engineer and looks at engineering failures, trouble shooting, repair, maintenance and commissioning related cases across industries. He has experience in the marine industry, heavy machinery, and engineering projects. Sujen manages AGI's Indonesian team remotely with the help of technology.
G. SUJENTHIRAN,
Forensic Engineer

AICLA Webinar Series
Social Inflation: Navigating the evolving claims environment
Monday, 25 January 2021 
1.00 p.m. - 2.00 p.m. CET / 7.00 a.m. -8.00 a.m. EST

Social inflation tends to occur in bouts or waves and respond to changes in the liability landscape. There are signs that social inflation has emerged again as a disruptive issue for companies and their insurers. The number of claims being pursued through the courts has risen sharply over the past few years, especially class actions, along with the amount of compensation awarded to plaintiffs.
Though social inflation is most acute in the U.S., it is starting to spread to other jurisdictions as well. COVID-19 only adds to the uncertainty about the future claims and litigation environment.


In this webinar, we'll explore the following questions:
What is social inflation and how does it manifest for insurers?
How does this episode of social inflation differ from previous ones, particularly bouts in the 1980s and 1990s/2000s?
What are the main recent underlying drivers of social inflation?
How is COVID-19 expected to affect these drivers and future liability claims?
How are insurers responding to this latest episode, particularly in their underwriting approaches?
The Geneva Association Webinar Series
101 of Business Interruption Insurance Coverage
Wednesday, 16 December 2020
4.00 p.m. - 5.30 p.m. (SGT/MY Time)

Attendees will gain a basic understanding of the fundamental elements contained in a BI policy and how, using actual examples, the numbers apply to that wording.

Session Overview:
Introduction to Business Interruption; will include overviews on loss turnover & rate of gross profit.
Review of typical policy wording; to include a discussion on where to look in the policy, possible triggers & average.
Simple loss analysis; will consist of application and complications arising from the wording & common issues
Our Guest Speaker:
Nattakarn Prasitsumrit (Manager - MDD Forensic Accountants' Singapore) Nay, as she is known, has proven forensic accounting experience in the areas of business interruption, lost profits, extra expenses/increased costs, fraud, concealment & representation, and litigation accounting services. She has been engaged on numerous assignments in various industries in Singapore and in the region.
Nattakarn Prasitsumrit
Manager - MDD Forensic Accountants' Singapore

AICLA Webinar Series

Pandemic risk: Is it really uninsurable?
Wednesday, 11 November 2020
4.00 p.m. - 5.00 p.m. CET (10:00–11:00 EST)
11.00 p.m. (11 November 2020) - 12.00 a.m. (12 November 2020) (Malaysia time)


COVID-19 has sparked a widespread debate on the role of insurers in shouldering losses related to pandemics. In addition to the sickness-related impacts of the virus, government-imposed lockdowns have been enormously detrimental to businesses. Insurers are promptly paying all legitimate claims, but COVID-19 has revealed gaps in coverage and the need to explore feasible protection solutions.

The Geneva Association's new study, An Investigation into the Insurability of Pandemic Risk (bit.ly/PandemicInsurabilityReport), sheds new light on a number of previously unanswered questions:

• What are the protection gaps in the areas of business interruption, health and mortality?
• How much capacity do insurers have to absorb related losses and help close these gaps?
• Which criteria determine whether a risk is insurable?
• How do the characteristics of pandemics – and their level of insurability – compare to other catastrophic risks?

We invite you to join the authors of the report for a presentation of our research findings, followed by an interactive discussion.

The report on which this discussion is based lays the groundwork for The Geneva Association's next report on pandemics and insurance, Public- and Private-Sector Solutions to Pandemic Risk, to be published later in 2020.

Speaker lineup:
• Kai-Uwe Schanz, Head of Research & Foresight, The Geneva Association
• Hato Schmeiser, Chair for Risk Management and Insurance and Director, Institute of Insurance Economics, University of St. Gallen
• Alexander Braun, Vice Director, Institute of Insurance Economics, University of St. Gallen
• Arne Holzhausen, Head of Insurance and Wealth Markets, Economic Research, Allianz

Moderator
• Pamela Corn, Director Communications, The Geneva Association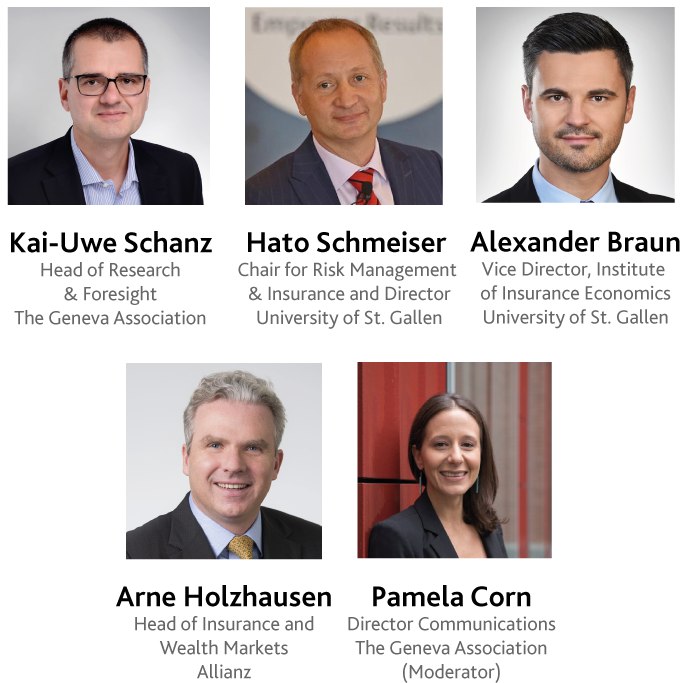 Organized by
Supported by
The Geneva Association Webinar Series
Engineering Assessment of Equipment Losses
Wednesday, 21/10/2020
4.00 p.m. - 5.00 p.m. (Singapore Time)


What you will learn in the webinar:
Three key factors which play important role in operating conditions of a machine
Difference between a failure and operational wear & tear
How to identify the failure or wear and tear through the key factors
Case study - Steam turbine wrong trouble shooting/servicing methods causing bearing failure which led to a total loss of the turbine.
Speaker profile
Mr G. Sujenthiran
Forensic Engineer, Approved Group International
Sujen has over 8 years of experience in the marine engineering field where is was involved in ship building, ship commissioning and heavy machinery troubleshooting, maintenance and repair work. Most of these were in roles where he was hands-on solving the technical challenges. He was also involved in high-rise building construction, project management and operational duties that gave him good engineering exposure. In his current role with AGI, Sujen looks at engineering failures, trouble shooting, repair, maintenance and commissioning related cases across industries. His sharing will be most relevant for loss adjusters and insurance personnel.

Session introduction by
Mr Andrew Khoo – Chairman International Division, AICLA
Mr Pooba Mahalingam – Councilor, AICLA (Singapore)
Mr G. Sujenthiran
Forensic Engineer,
Approved Group International
AICLA Webinar Series
De-Mystifying Warranty and Indemnity Insurance in the World of Financial Lines With a Brief Update on Covid-19's Impact on the Financial Lines Market
Wednesday, 7/10/2020
10:00 a.m. to 11:00 a.m. SGT


This webinar will focus on Warranty and Indemnity (W&I) insurance and how it has become an established mergers and acquisitions (M&A) deal tool. Learn about the W&I product's growth story in the Financial Lines market, the W&I process, how it can be used
to manage the transfer of risk in a M&A transaction, and practical claims examples.

Speaker Line Up
Arati Varma – Head of Financial Lines and Casualty, QBE Asia (Moderator)
Cheow Ai Ling, MD – Private Equity M&A Asia Leader, Marsh (Singapore) Pte Ltd
Jade Cummings – Underwriter, Mergers & Acquisitions, Cyber & Executive Risk, Beazley
Pin Li Lim – Senior Claims Advocate, Private Equity and M&A/Financial Claims, Marsh (Singapore) Pte Ltd

Update on COVID-19 Impact
John Goulios – Partner, Head of Litigation & Regulatory, Global Co-Chair, Insurance Sector, DLA Piper

This will be a FREE PLUS webinar, but registration is required.
Hydropower Tunnel Failures - Risks and Causes
Tuesday, 6/10/2020
9.30 a.m. - 10.30 a.m.


The hydropower industry has unfortunately experienced several tunnel failures over recent years. The risks and challenges for the successful design and construction of hydropower tunnels are much more elevated in comparison to other types of tunnels as hydropower tunnels are subjected to dynamic operating conditions that are not always fully known prior to operation. Many hydropower tunnels have been designed and constructed as unlined tunnels incorporating shotcrete lining only in limited areas based on technical assessments performed during and at the later stages of construction. The technical assessment can however be subject to limited access, limited data collection from mapping, concealed instability of TBM excavated tunnels, and the misunderstanding of dynamic hydraulic operations. The main risks associated with the design and construction of hydropower tunnels along with causes of recent collapses are presented and explained along with suggestions for improved industry practice

What you will learn:
1) Uniqueness of Tunnels
2) Planning and Design
3) Project Delivery
4) Construction and Methods
5) Operations
6) Historical Collapses
7) Recent Collapses
8) Root Causes of Collapses
9) Risk Evaluation of Tunnels
10) Tunnel Inspections for Risk Management of
11) Hydroelectric Tunnel
Speaker Profile
Dean Brox is a graduate from the University of British Columbia in Geological Engineering and from Imperial College, University of London, with a Master of Science degree in Engineering Rock Mechanics with Distinction.
Dean has 35 years of experience in the design and construction of over 1500 km of major tunneling and underground infrastructure projects for hydropower, civil, and mining projects. He has worked on hydropower tunneling projects in Angola, Bolivia, Canada, Chile, Colombia, Ecuador, Guatemala, India, Indonesia, Lesotho, Malaysia, Nepal, Panama, Peru, Philippines, South Africa, the USA, and the UK.
Dean's specialist experience for hydropower tunnels includes the acceptability of unlined pressure tunnels, risk and constructability assessments, the use of tunnel boring machines (TBMs) for deep and long tunnels, forensic investigations of problematic tunnels, and the use of remote operated vehicles (ROVs) for unwatered inspections and asset condition assessments.
Dean practices as an independent consulting engineer for the planning, design, construction and operations of underground projects and is based in Vancouver, Canada.
Registration Fee:
MII Members: Complimentary
Non Members: RM 50.00
Mr. Dean Brox
Professional Engineer
and International Tunnel Expert
Dean Brox Consulting

MII Webinar Series
9th MEFIN Public Private Dialogue (PPD9)
De-Risking Climate & Pandemic Disasters
Tuesday & Wednesday, 29-30/09/2020

The aim of the 9th edition of Public-Private Dialogue (PPD9) – four-series of webinars which will be held on 29-30 September 2020 - is to explore the role and possibilities of the insurance sector to help the low-income households and informal businesses to better cope with climate and disaster risks via appropriate disaster risk finance (DRF) solutions.
Session 1: Social Insurance & Protection for the Informal Sector
Date: 29 September 2020
Time: 2:00 p.m. - 3.15 p.m. (Manila Time)
Session 1 is focused on the following questions:

1. What are the key lessons learned from the social protection schemes and DRF solutions in regard to reaching the informal sector?

2. What factors inhibit social protection schemes and DRF solutions to reach and meet the needs of informal businesses and workers?

3. How can social protection schemes and DRF mechanisms be made more accessible to the informal sector?

4. How can the capacity and expertise of private insurance providers contribute to the accessibility of social protection and DRF solution?

5. How can DRF become a means to help informal workers and business to transition into the formal sector?

Session 2: Diversity in the Informal Sector: What It Means for Insurers
Date: 29 September 2020
Time: 3.30 p.m. - 4.45 p.m.

Session 2 aims to understand:

1. How can low-income households and informal micro and small enterprises be segmented?

2. Women mostly have lower social protection coverage and they often work in sectors critically affected by disasters such as COVID-19. How should gender-lens be more effectively integrated into the DRF solutions?

3. In accordance with the differing segments, what adjustments are necessary in the procedures and requirements of delivery of financial risk protection solution, including using technology?


Session 3: Why Is There a Need for Demand-Driven Disaster Risk Finance (DRF) Soulutions?
Date: 30 September 2020
Time: 2.30 p.m. - 3.45 p.m.

Session 3 will address these questions:

1. Why should customers and beneficiaries be involved in developing DRF solutions?

2. How have low-income households and informal businesses been involved so far in developing insurance and risk transfer solutions to meet their needs?

3. What are the obstacles in developing demand-driven products for micro and small businesses in particular?

4. How can the informal sector be involved more effectively? What are the approaches to co-designing products?

Session 4: What Is The Role of the Insurance Sector in managing Disasters for the Vulnerable?
Date: 30 September 2020
Time: 4.00 p.m. - 5.15 p.m.

The session will discuss the following:

1. What is the role of the insurance sector in making the low-income informal sector more resilient to disasters, such as those arising from climate change and COVID-19?

2. What hinders governments and other key actors to integrate inclusive climate and disaster risk insurance in DRM mechanisms?

3. What are the key areas for dialogues in order for government agencies and insurance industry to jointly better manage climate disaster risks?
9th MEFIN Public Priovate Dialogue (PPD9)
Understanding Hazards at Power Generation Plants
Wednesday, 30/09/2020
9.30 a.m. - 12.00 p.m.


As part of continuous efforts, we are pleased to announce that the Fire Protection Association of Malaysia Bhd (FPAM) is organising a webinar on "Understanding Hazards at Power Generation Plants".

The talk aims to provide participants with the insight knowledge in power generation potential losses and possible mitigation. We look forward to members' support and participation in the webinar. Kindly ensure that all completed registration forms reach the Secretariat at shanti@piam.org.my latest by 29 Sept 2020.

What you will learn:
1) Losses at Power Generation Locations
2) Protection for Recognised Hazards

Who Should Attend
Fire & Engineering Underwriters / Fire Risk Surveyors /Claims Personnel, Loss Adjusters / Engineers, Business Development Personnel

Speaker Profile
Mr Kumar Rajasegaram has over 17 years of engineering and technical experience involving plant operations and maintenance, plant optimization, plant safety, fire and loss prevention added with experience in people management & training.

His previous exposure in FM Global ranged from risk assessment of low hazard occupancies up to High Hazard Power Generation Plants. He also had led the Power Generation Plants. He also had led the Power Generation Specialist team within Asia and involved training, mentoring and coaching new recruits into FM Global.
Registration Fee:
RM100.00 per participant for FPAM Ordinary / Associate Members and MII Members only
RM150.00 per participant (non member)
Mr Kumar Rajasegaram
PMSFPE, MIPowerE, MIFireE, M.Eng (Risk)
Fire, Safety, Risk & Analytics Consultant
JTS Risk Engineering PLT
Fire Protection Association of Malaysia Bhd (FPAM)
Webinar Series
Leading to Deliver Delightful Insurance Customer Journeys in Next Normal
Tuesday, 8/9/2020
3.00 p.m. - 4.00 p.m.


The fast-changing state of the insurance industry has been further accelerated by the COVID-19 pandemic, and although transformational leadership through this period may be challenging, it is certainly not impossible. Not only do companies have to adapt their existing customer journeys to meet health & safety requirements but also demonstrating and practicing deep empathy with customer needs. In times of crisis, companies and leadership who exhibit emotional intelligence and communicate with care, honesty, and empathy will build trust with their customers and deliver delightful customer journeys along the way. 

In this highly engaging virtual learning session, Chris will share some tips you can practice to gain empathy with your customers and tools to put into innovating your customer journey to deliver breakthrough business performance.

What you will learn:
- How might we understand customers needs in a post COVID-19 environment?
- How do we innovate customer journeys and deliver experiences that delights customers?
- How leaders can lead a CX boost in their organisation?
Speaker Profile
Christoffer Erichsen is a highly sought-after international speaker who has 25+ years of experience in the fields of innovation, leadership and learning. He launched his first venture at the age of 16 & has founded multiple successful ventures since. He is extremely passionate about humanising business and the future work. In the last 2 years alone, he has impacted over 5,000 business professionals to drive customer-centric innovation. Chris is the founding partner of Human Inc, an innovation consultancy operating in Malaysia, Singapore & London. Human Inc has helped 50+ MNC's across South East Asia in every industry vertical to innovate through workshops, consultancy and solution design labs.
Registration Fee:
MII Members: Complimentary
Non Members: RM 50.00
Christoffer Erichsen
The Founding Partner of Human Inc

MII Webinar Series
Free registration to MII and ICA Regulatory Compliance Qualification Online Vriefing
Friday, 4/9/2020
10.30 a.m. - 11.30 a.m.


About the Briefing
MII together with ICA will be organising an online briefing session on our joint certification programs in Regulatory Compliance for the insurance industry.
This is an opportunity for you to get the latest information about the qualifications and what is suitable for you. 

Join us to understand how an ICA and MII qualification can help you to:
Make an in impact in the insurance industry
Be trained and certified to manage risks
Be an informed and knowledgeable compliance professional
Be awarded with a certification recognised by regulators
Who Should Attend
The programmes are open to any job role that has a view to compliance.

Fee
Free Entrance
Watch the recorded session
Helen Langton
CEO, International Compliance Association
Shalini Pavithran
CEO, The Malaysian Insurance Institute

MII Webinar Series
Mitigating Lightning and Surge Damages to Solar and Wind Farms by Adopting International Standards
Thursday, 27/8/2020
2.00 p.m. - 3.00 p.m.

Wrongly applied Lightning Protection System or the lack of it results in damages and losses which are usually mitigatable. Whilst solar and wind farms may not see catastrophic failures like oil and gas facilities, they suffer sizeable long-term losses through low output efficiency, and one of the most common claims being through lightning damages.
This webinar looks into the most commonly adopted international standards for lightning protection, the important processes and documentation requirement from design to installation. It will also explore what to look out for to ensure assets are well protected and within the legal framework.
Speaker Profile
Darren Poh is the Managing Director of DEHN (SEA) Pte Ltd overseeing South East Asia, Australia and New Zealand.
He has more than 20 years of experience in electrical circuit protection and has conducted many lessons for Lightning and Surge Protection based on IEC 62305 (Singapore Standard SS 555) in the region.
His circuit and surge protection application experience cover a wide segment including low voltage system, telecom infrastructure, transportation system, building, oil and gas, energy and etc.
DEHN is a German based company and a world leader in the research of Lightning and Surge Protection. This is backed up by more than 110 years of experience, 1,800 employees and over 120 engineers in Research and Development, and Quality Management.
Registration Fee:
MII Members: Complimentary
Non Members: RM 50.00
Darren Poh
Managing Director, DEHN (SEA) Pte Ltd

MII Webinar Series
Ethics and Technology: Will The Transition Be Just and Orderly?
Wednesday, 19 August 2020
10.30 a.m. (+8 GMT)


It is now widely expected that the development and application of new technologies will bring about progress that amounts to civilisational change. Without care, change will be accompanied by an uneven distribution of burdens and benefits — both between societies and within them. AICB, in collaboration with The Malaysian Insurance Institute (MII) and the Islamic Banking & Finance Institute Malaysia (IBFIM), analyses the implications of this change for bankers and the wider society and economy in which they participate. "Ethics and Technology: Will the Transition be Just and Orderly?" Join Dr Simon Longstaff and Dr Dzaharudin Mansor as they explore the role of ethical restraint in harnessing the potential of technology while avoiding a dystopian future. Our panel of speakers will also share their knowledge on the core principles that can guide the design, development and deployment of new technologies, and discuss the role of banking and finance in ensuring a just and orderly transition. As an AICB member, you are entitled to register for this webinar with our compliments.
Dr Simon Longstaff AO FCPA FRSN FARPI, ,
Executive Director, The Ethics Centre, Australia
Dr Jasmine Begum, ,
Director, Legal, Corporate & Government Affairs,
Microsoft ASEAN & New Markets

Moderator:
Shalini Pavithran, ,
Chief Executive Officer, The Malaysian Insurance Institute 


AICB Webinar
Challenges and Solutions for Agency Channel in a Digital Era
Wednesday, 5/8/2020
2:00 p.m. - 3:00 p.m.


Internet usage continues to explode across the world with digital becoming an increasingly important source of competitive advantage in both B2C and B2B marketing. A great deal of attention has been focused on the tremendous opportunities digital marketing presents, with little attention on the real challenges that companies are facing when they go digital. As the insurance industry is pushing its efforts to increase the digital footprint, the moot question is, 'what is the future of the oldest channel, the insurance agent?'
Join our webinar, where our speaker will be sharing invaluable insights and experiences on the following areas:
Financial advice: Current challenges and innovations
Role of agents/advisors in financial advice
Current state of agency channel, post Covid-19 outbreak
Innovations by insurance companies and end-to-end digitalization of agency channel
Way forward
About the Speaker
Ajit Rochlani, Engagement Manager, Insurance, Oliver Wyman (Singapore)
Ajit has over eight years of insurance consulting experience and is a core member of the firm's insurance practice. Within insurance, Ajit specializes on customer journeys, and distribution and sales force effectiveness. He has executed projects for multiple insurance clients across the region, assisting them on aspects of growth strategy, distribution excellence, sales force effectiveness, digital strategy, cost optimization and many more. Before joining Oliver Wyman, Ajit was a Project Leader at Boston Consulting Group.
Relevant experiences include:
Agency channel end-to-end transformation for a leading life insurer in Asia
Agency recruitment strategy for a leading life insurer
Agency sales force effectiveness and productivity improvement for a non-life insurer
Design and implement digital front-end applications and re-design Advisor journey in the agency channel of a leading life insurance player
Distribution channels transformation through sales force effectiveness and digital levers for a leading private life insurer in Asia
Sales force effectiveness strategy for a Banca channel

Ajit also publishes regularly for Oliver Wyman Insights and industry journals. He has recently published articles and reports on Agency channel transformation, Retirement opportunities and Bancassurance sales force effectiveness:
https://www.oliverwyman.com/our-expertise/insights/2020/jul/transforming-the-agency-channel.html
https://www.oliverwyman.com/our-expertise/insights/2020/may/rethinking-retirement-in-asia.html
Education
Ajit has a Master's in Insurance and is also a Fellow of Insurance Institute of India (FIII).
Ajit Rochlani,
Engagement Manager, Insurance
Oliver Wyman (Singapore)

MII Webinar Series
COVID-19 – What is it and what is its impact on mortality?
Wednesday, 29/7/2020
10.00 a.m. - 11.00 a.m.


While there is still much to learn regarding COVID-19, some aspects of this novel virus are becoming clearer.  This webinar will cover some of the latest findings, including what are people dying from and some unique perspectives on protective measures.  There will also be a focus on the emerging numbers, including a discussion on the different measures, their shortcomings, and why you should still use them.  What are the recent trends from around the world and Asian countries in particular, by age, gender, and co-morbidities?  There will also be a brief discussion on how COVID-19 deaths in the U.S. population compare to U.S. life insurance COVID-19 claims.
Who Should Attend?
With the primary focus will be on mortality and morbidity to a lesser extent, life and health insurance professionals will benefit from this presentation.  Also, any other insurance or other professional interested in learning more about COVID-19 from a new and unique perspective.
Speaker Profile: Allen M. Klein
Al is a principal and consulting actuary with Milliman's Buffalo Grove / Chicago office. He joined the firm in 2009.

Al's primary responsibilities include industry experience studies and helping clients with mortality, longevity, and underwriting issues. Al's expertise on mortality and underwriting includes traditional products, simplified issue, final expense, older age, and preferred.

Al has helped several InsurTech companies enter the life insurance market
Allen M. Klein
FSA, MAAA
Principal and Consulting Actuary

MII Webinar Series
Pandemic Impact on Directors and Officers (D&O) Insurance Underwriting and Claims
Friday, 24/7/2020
9.00 a.m. - 10.00 a.m.


As risks emerge and evolve, the recent COVID-19 pandemic continues to challenge organizations — and their directors and officers. Tasked with making difficult decisions to protect and promote their companies' viability, directors and officers are increasingly exposed to litigation and financial loss during this time of transition, which for many is also a time of distress. While the ongoing pandemic is currently a top priority and concern for organizations and insurers, its full impact on D&O pricing remains to be seen.

Join us for an intimate discussion with Kevin LaCroix, author of 'The D&O Diary' blog, to discuss the impact of global economic downturn on underwriting and claims. He will be joined by Roy Sharma (Chairman, LIIA). The panel will also share insights on the following areas:
State of Play in the U.S. D&O Insurance Marketplace Before the Pandemic
Post-Pandemic D&O Insurance Marketplace
Pandemic Claims and Regulatory Enforcement Actions
Impact of Economic Disruption
The Road Ahead in a Post- Pandemic World
Other Key U.S. D&O Claims Trends

Speaker Profile: Kevin LaCroix
Kevin M. LaCroix is an attorney and Executive Vice President, RT ProExec, a division of R-T Specialty, LLC. RT ProExec is an insurance intermediary focused exclusively on management liability issues.

Kevin has been involved in directors' and officers' liability insurance for over 35 years. He began his career as a coverage attorney and partner at the Washington, D.C. law firm of Ross, Dixon and Bell. More recently, Kevin served as President of Genesis Professional Liability Managers, a D&O underwriter and part of the Berkshire Hathaway group of companies.

Throughout his career, Kevin has been active in the Professional Liability Underwriting Society (PLUS), serving on its Board of Trustees from 1999 to 2005, and as its President in 2004. Kevin also served as Co-Chair of the PLUS D&O Liability Symposium from 2007 through 2009. In 2008, Kevin received PLUS's "Founders Award," which is awarded annually to PLUS member who has "made lasting and outstanding contributions to the Society."

Kevin speaks frequently on D&O issues, and in the recent past has served as a faculty member at the Stanford Law School Directors' College. He has spoken at conferences sponsored by PLUS, the American Conference Institute, Fordham Law School, the University of Connecticut Law School, Loyola University Chicago Law School, the University of Pennsylvania Law School, the American Bar Association, China Council for the Promotion of International Trade (CCPIT) [Beijing], Federação Nacional de Seguros Gerais (FenSeg) [Brazil], Bima Gyan [India], C5, J.P. Morgan, and the Reinsurance Association of America. Kevin's comments on D&O liability and insurance issues have appeared in a wide variety of publications, including the New York Times, the Wall Street Journal, the Financial Times, the Washington Post, the San Francisco Chronicle, Bloomberg, the Los Angeles Times, Dow Jones Newswire, Business Week, International Herald Tribune, Compliance Week, and Business Insurance.

In December 2014, Kevin was named as insurance information firm Advisen's inaugural Management Liability Person of the Year for the USA. In December 2015, in a vote of industry professionals, Kevin was named as Advisen's Industry Legend of the Year.

Kevin is also the author of the Internet weblog, The D&O Diary, which the New York Times called "influential" and the Wall Street Journal described as "widely followed."

Kevin is a graduate of the University of Virginia and of the University of Michigan Law School.

Speaker Profile: Roy Sharma, LLB (Hons)(London), CLP
G Roy S Sharma is the Principal Officer and Managing Director of an international reinsurance company based in Kuala Lumpur. Other than as country manager for Malaysia, he is also responsible for developing and assisting their clients in Asia in certain specialized areas of insurance. His specialized areas include, among others, Political, Project & Credit Risk Insurance, Professional Indemnity, Management Liability Insurance, Financial Lines Insurance, Casualty Insurance, Extended Warranty Insurance and Affinity & Niche Solutions.

He read law in the City of London and was called to the Malaysian Bar as an Advocate & Solicitor. He started his career in the insurance industry in 1994 as an Insurance Broker and joined Antah Sedgwick Chartered Insurance Brokers. Thereafter, he joined Aon Risk Services Malaysia and Aon Risk Services Singapore. In 2006, Roy then joined Arthur J Gallagher Asia (L) Bhd a reinsurance broker that was rebranded as Asia Reinsurance Brokers (Labuan) Ltd in 2008 after a management buyout; where he was the MD since 2007.

Roy is a sought after speaker in his area of specialization. He has presented various papers in many conferences and conducted many training seminars for insurance companies and insurance buyers around the region.

Roy is also the President Commissioner of PT ARB Indonesia and a Board member of ARB's parent company. Roy is the current Chairman of the Labuan International Insurance Association.
Kevin LaCroix
Attorney and Executive Vice President, RT ProExec, A Division of R-T Specialy, LLC
Roy Sharmam LLB (Hons) (London)
Chaiman of LIIA

MII Webinar Series
Re-coding the Future Insurer
Wednesday, 22/7/2020
3.00 p.m. - 4.00 p.m. 
This session will give you an overview of the workshop which aimed to elevate, grow and sustain the general & life insurance industry of Malaysia into the future.
The following areas will be discussed in brief:
The urgency in changing mindset to embrace digital transformation.
The need to identify and learn core future skills and competencies to stay relevant.
The digital/technology enablers that accelerate efficiency and effectiveness in core areas of responsibilities (underwriting, claims and business development/distribution channels functions)
There will also be a Q&A session for the audience to engage with the trainers.
Speaker Profile
ZOHRAB A.S CHONG
Zohrab has more than 21 successful years of financial institutional industry experience, specifically in the Malaysian general insurance industry. His early professional career includes being a practicing lawyer, an economic trade officer with the South African High Commission and an international business development manager, before joining the financial industry.

ANDREW LAU
Andrew Lau is the CEO and founder of Think Codex – a multiple award-winning Gamification Organization. He is also the Vice-Chair of the International Gamification Confederation (GamFed) – which is a global community of gamification experts, academia, professionals and practitioners headquartered in Europe.

MICHELLE LIM
A service-minded professional in the FMCG industry, Michelle has worked on various projects with clients from major international brands to introduce new products and services and adapt it to the local needs. A hands-on Sales Trainer by profession, she moved from the FMCG industry in Malaysia to provide support in the Education and Service industry in Japan.

MUKESH PILANIA
Mukesh is a seasoned insurance professional with more than 17 years of insurance experience in Asian markets. He has worked across many complex and interesting topics ranging from starting a new insurance company from scratch, merger and integration of big insurance companies to developing successful digital distribution business and transforming customer experience and insurance processes by automation using new age technology of robotics and artificial intelligence.
Watch the recorded session
ZOHRAB A.S CHONG
B.Ec, LL.B (Monash), AMII
HRDF Certified Trainer
ANDREW LAU
CEO and Founder of Think Codex
MICHELLE LIM
Creative Advisor,
Design Thinking & People Development,
JCE Japan Creative Enterprise
MUKESH PILANIA
CEO- Yantrik (Yan3k.com)

MII Webinar Series
The End of Manual Data Processing for Insurance
Tuesday, 30/6/2020
1.30 p.m. SST | 11.00 a.m. IST

Global insurers are pivoting quickly to protect their bottom line and their competitive advantage. Organisational resilience is critical, as insurers seek to ingest and digitise all their unstructured and semi-structured data. The ability to make this data clean and usable is now more important than ever, determining who survives and who fails during these uncertain times.  

NelsonHall's Mike Smart shares the findings from their recent lab tested "Bake-off" research for best-in-class tools to read, ingest and transform multi-format document and data. This research presents critical information for buyers to compare and identify straight-through processing capabilities needed for automation projects. 
Chris Miller leads the Robotic Automation Solutions (RAS) Team at John Hancock Manulife insurance. During the past four years, his team implemented numerous automation solutions, but faced challenges when working with unstructured data – commonly found in insurance firms. Chris shares how John Hancock Manulife solved the upstream unstructured data challenge to enable straight-through processing automation and extending this solution worldwide. 
Join our webinar on June 30 to hear from NelsonHall and John Hancock Manulife on how to leverage Cognitive Document Automation to thrive in today's competitive insurance marketplace.
In this webinar, you'll discover how to:
Leverage a template-free solution to ingest and digitise all unstructured documents and transform into useable data
Identify key use cases for Cognitive Document Automation
Distinguish which technologies provide true straight-through process automation
Operationalise the solution across the enterprise
Chris Miller
Head of Robotics,
John Hancock Manulife
Mike Smart
Senior Analyst NelsonHall
Mike Hobday
Chief Revenue Officer, AntWorks
Antworks Webinar
COVID-19: Trending claims and underwriting issues
Wednesday, 24/6/2020
2.00 p.m. - 3.00 p.m.


With the COVID-19 situation continuing to impact business value chains globally, it has impacted the global construction industry with projects facing labour shortages, disruption in the supply chain and financing pressures. These effects are rippling across the sector with companies trying to respond to these challenges by turning to their insurance policies.
This webinar will share more about the underwriting challenges and the common claims that companies seek during this extraordinary time.
Speaker Profile: Mr Nicholas Sykes
Nicholas has been practising in Singapore for nine years and acts for [re]insurers across Asia Pacific, particularly those based in Singapore, Japan, South Korea and S.E. Asia. He also advises clients based in the UK and Europe markets.
Nicholas advises clients on complex policy coverage issues and quantum, and acts for clients in negotiations, mediation, arbitration and commercial litigation. Another significant focus for Nicholas are subrogated recoveries for insurers. Nicholas' cases have involved him managing and conducting substantial litigation / arbitration on behalf of [re]insurers in a number of jurisdictions around the world. Nicholas is fluent in the major rules of arbitration, including ICC, SIAC, HKIAC, AAA, UNCITRAL and LCIA.
Nicholas is a commercially minded lawyer who provides expedient and strategic legal advice to clients, and who has benefited from an 18 month secondment to the claims team of a major insurer.
He is named an Up and Coming individual by Chambers Asia Pacific 2020.


Speaker Profile: Mr James P. David
James graduated with an LLB (Hons) from Sheffield University and obtained an LLM (Hons) from Cambridge University. He is admitted as a solicitor of England & Wales and called to the Malaysian Bar. He is also a Fellow of the Chartered Institute of Arbitrators (FCIArb).
James is a founding partner of Shaikh David & Co. From 1995, he has been involved in insurance, shipping and aviation, international trade, offshore energy and has a substantial practise in policy advise, recoveries and defence. He is regularly instructed by general and liability insurers including P&I, FD&D and hull and also acts for ports, off-shore operators and contractors, freight forwarders and commodity traders.
He is a qualified arbitrator and sits on the panel of the Kuala Lumpur Regional Arbitration Centre (KLRCA) and Thai Arbitration Institute (TAI). He is consistently named as a leading individual in his field.
Watch the recorded session
Nicholas Sykes
Partner, Clyde & CO Clasis Singapore Pte Ltd
Mr. James P. David
Managing Partner
Shaikh David & Co

MII Webinar Series
Shifting from Traditional to Agile
Tuesday, 23/6/2020
1:00 p.m. – 2:00 p.m. HKT
No matter your business is in the trajectory of high growth or facing the life and death business challenges, organizations are in a unique and unpredictable business environment. Customer needs keep on changing. However, most of the companies are still internal focus and process directed. Around the world, more and more leading business leaders adopt the concept of business agility. It is no longer an approach to product management. It is a new way of leadership and management. Will insurance companies have an exception? Are you ready for the transformation?
Explain the concept of VUCA
Learn what is Agile and Business Agility
Understand the historical development of Agile
Examine the benefits of Business Agility
Discuss the applications of Agile
For MII members - kindly put "MII" in the CII Membership Pin column in the registration page
David Mui
CEO and Faculty, InfoWorks Institute
CIIHK Webinar
Contractors' All Risk Insurance as part of Infrastructure Project Coverage
Thursday, 11/6/2020
1:00 p.m. – 2:00 p.m. HKT
What can insurance policy cover physical loss of infrastructure project? What can Contractors' All Risks (CAR) Insurance policy do in infrastructure project?
Insurance product for infrastructure, including CAR, EAR, CPI, CEAR, CECR
CAR Insurance in general
Background of CAR
The insured for CAR
Basic of sum insured
Basic of loss settlement
Major endorsements
Loss prevention
Reinsurance
Claim study: lessons learnt
For MII members - kindly put "MII" in the CII Membership Pin column in the registration page
Russel Effandy
Associate Director,
Jamin Semesta
CIIHK Webinar
Rating Structure For Private Motor Insurance
Wednesday, 10/6/2020
10.00 a.m. - 11.00 a.m.
Private Motor Insurance is a major part of the insurance market, it plays a key role in profitability and market share.
Rating structures are very important for companies coming out of a tariff situation.  It is an important piece of work and you need to know how to make sure the actuary works for the benefit of the company. How to produce a private motor rating structure that is likely to be profitable in a de-tariffed market and stay ahead of competition.
Join our technical speaker, Fabrice Berjot an actuarial facilitator and consultant in a 30-min informative and sharing session on highlights of this rating structure for Private Motor Insurance in a de-tariffed market. 
Speaker Profile
Fabrice was a senior executive in non-life insurance for 23 years before becoming an actuarial facilitator and consultant. Fabrice has a very comprehensive experience of personal lines and commercial lines pricing and reserving but also experience in Claims management and Finance. He explains actuarial principles simply and make sure they are understood and applied all throughout the company. Fabrice has presented many subjects to Actuarial conferences all over the world (Europe, Canada, Dubai...).
He has managed large teams of actuaries in challenging environments when training was crucial. During his career, Fabrice was using all techniques of Actuarial science :
All techniques of reserving for Personal and Commercial Lines risks
Sophisticated pricing structures from European markets, including cutting-edge tools like scoring
Forecasts for Planning and Budgeting
Mergers : Fabrice led the Actuarial due diligence task force for 2 major mergers in the UK
Corporate experience
23 years of experience in very large insurance groups like AXA, UAP and Monceau Group.
Fabrice has mostly work in challenging environments in period of major changes and was known for finding and implementing solutions to bring companies back to profitability.
15 years as a senior executive : CFO of AXA Corporate Solutions UK, SEVP of AXA Insurance Hong Kong, SEVP Finance for AXA Business Services in India
Fabrice Berjot
Actuary with Master's degree
in Statistics and Economics,
University of ParisTech, France

The Malaysian Insurance Institute Webinar
Preparing for the Post Pandemic World
Tuesday, 9/6/2020
1:00 PM – 2:30 PM
The Covid-19 outbreak has affected all industries in different ways. It has slowed down the economy and forced businesses to fight for survival.  Business leaders are navigating a disrupted world as the crisis unfolds.
While the Insurance industry is in the headwinds, the industry is generally well prepared for major loss events, including pandemics. However, the financial impact will take time to play out and will be (re)insurer specific. Insurers are responding to the widening Covid-19 outbreak on multiple fronts – as claims payers, employers, investment managers and corporate citizens. Each has its own distinct challenges, not just for the insurance industry, but for the global economy and society at large.
Organisations are moving from crisis management to a new "business as usual" and the path forward from the crisis is being established.  In this webinar, we will hear from our industry leaders and the regulator on how they are responding to the changes brought about by the pandemic. 
In this webinar session, five (5) panellists comprising of the regulator and well-known insurance industry leaders and practitioners, will be discussing the Pandemic's impact on our industry. Even though we are still in the tunnel's shadows, it is vital to focus on the light at the end of the tunnel which provides the best direction for the actions leaders should take now and we will hear from our expert panellists on what they are doing on this front.  What is to be expected in the next normal that should we prepare for? Tune in for this exciting discussion on 9th June 2020.
Watch the recorded session
Panelist 1:
Lau Chin Ching
Director, Insurance Development Department, Bank Negara Malaysia

Panelist 2:
Antony Lee
Chairman, Persatuan Insurans Am Malaysia (General Insurance Association of Malaysia - PIAM)

Panelist 3:
Mark O'Dell
CEO, Life Insurance Association of Malaysia (LIAM)

Panelist 4:
Marcel Omar Papp
Principal Officer, Swiss Re

Panelist 5:
James Beedle
CEO P&C APAC
CEO Partner Reinsurance Asia Pte. Ltd.

Moderator:
Shalini Pavithran
CEO, The Malaysian Insurance Institute

The Malaysian Insurance Institute Webinar
Sometimes Attack Is Your Best Fraud Defence Strategy:
The Insurance Industry's 5 Rings of Fraud Protection!
Thursday, 4/6/2020
11.00 a.m. - 12.00 p.m.
Measuring Fraud is an elusive Target
About 10% of Non-Life Insurance Losses (up to 20%)
1 in every 25 Life Claims is fraudulent
Fraud detection and prevention are aiming at keeping the entire insurance market free from distortion and each insurer committed to fight relentlessly fraud within its organization.
This session will give you an overview of the fraud losses and the threat of fraud faced by the industry. What is the Tip of the Iceberg, and What Remains Hidden?  


Speaker Profile
Rudolf Frei has over 27 years' of hands-on experience in the insurance industry, specialising in insurance management consulting and claims, fraud and insurance operations and sales support
Watch the recorded session
Rudolf Frei
Managing Director,
IBNR Insurance Consulting Ltd

The Malaysian Insurance Institute Webinar
Pandemic and the Marine Cargo business
Wednesday, 3/6/2020
10 a.m. - 11 a.m.
A brief session by a Marine Insurance Specialist on the evolution of marine insurance and how the shipping industry has been impacted by the various technological advancement as well as the current pandemic, COVID19.
Speaker Profile
Mr LM Mohamed Ismail - An experienced marine insurance broker who is passionate about this subject. He has conducted training sessions in various venues. He is also an Associate of the Talent Asia Training and Consulting.
He has some 30 odd years industry experience and currently serves clients in Singapore, India, Middle East and the region. He is currently attached to a Singapore based broking firm.
LM Ismail Mohamed
Marine Cargo Specialist
BA (Hons) Insurance Management,
Senior Associate ANZIIF

The Malaysian Insurance Institute Webinar
Covid -19 : Insurance Delivering in a Moment that Really Matters
Thursday, 21/5/2020
11.00 a.m. – 12.00 p.m.

Register in advance for this webinar:
https://us02web.zoom.us/webinar/register/WN_Jv4B7UKNSH27tJ__hWtwaA
Note : After registering, you will receive a confirmation email containing information about joining the webinar.
Zoom Webinar :Meeting ID: 849 5545 1476
Password: 354870
Note : MFPC 3CPD will be given.
Mr. Kolandasamy A/L Savarimuthu,
MFPC National Council

Dato' Javern Lim Chong Hee
Founder & Group Managing Director,
VKA Financial Group

Mr. Ragunath Joe Murthy
Chief Distribution and Marketing Officer,
MCIS Life Insurance Berhad
MFPC Webinar
Two Cs: COVID-19 and Construction Risks
Tuesday, 19/5/2020
1:00 PM – 2:00 PM HKT
An interesting and current topic - relating to the pandemic affecting many industries as well construction work sites throughout Asia. The speaker will touch on the Contractors' All Risks (CAR) policy and address relevant coverage issues relating to the COVID-19 related issues
A brief overview of the CAR policy and its structure
Coverage afforded during the site work restriction (lock-down or curfew)
Applicable conditions and clauses
Are project delays covered under the CAR policy?
In view of imminent project delays or work slow downs due to this government instruction, should the policy period be extended accordingly?
For MII members - kindly put "MII" in the CII Membership Pin column in the registration page
Pooba Mahalingam
Director of Training and Development,
Talent Asia Training & Consulting
CIIHK Webinar
Civil Engineering Completed Risk (CECR) Policy - What Do You Know About This Insurance Product?
Wednesday, 13/5/2020
10.00 a.m
Did you know about the slope collapse along the highways at Bukit Lanjan, Gua Tempurung and Genting Sempah previously? Quite tragic incidents that were reported in the local media more than a decade ago.  
@  How does these occurrences relate to insurance coverage? 
@  Is there a policy that will respond to such risks?
@  Who buys such insurance products? 
@  Can we buy the same for our our own office or personal properties?
The CECR insurance is a specialized annual cover arranged for operational risks. Items that can be insured include expressways, highways, bridges, tunnels, railway track, port wharfs and breakwater structures and pipelines. 
Join our regular technical speaker, Ir Pooba Mahalingam (a well known Regional Risk Consultant) in a 30-min informative and sharing session on highlights of this engineering class policy. 
Watch the recorded session
Pooba Mahalingam
Director of Training and Development,
Talent Asia Training & Consulting
The Future is Green: Sustainable Insurance
Tuesday, 12/5/2020
1:00 PM – 2:00 PM HKT
Introduction to the Four Pillars of the UN Principles for Sustainable Insurance
Overview of the proposed Green & Sustainable Insurance Principles for Hong Kong
For MII members - kindly put "MII" in the CII Membership Pin column in the registration page
Dylan Bryant
Director of Strategic
Account Management, Aon
CIIHK Webinar
Putting people skills and cultural change at the heart of digital transformation of the insurance industry
Wednesday, 6/5/2020
9am (UK time), 4pm (HK/SG time)
Join us for this webinar and listen to an experienced, global panel of insurance professionals present, discuss and review recently launched point of View report " Industry Warning: Digital Tipping point is approaching faster than expected" that highlights the need for cultural change and up skilling / re skilling for as many as possible by investment in L&D in Digital Insurance.
An Interactive Virtual Panel on Healthcare Insurance
Tuesday, 5/5/2020
3.00pm - 5.00pm
There is an urgent need to keep the insurance industry momentum going during this COVID-19 crisis, so Asia Insurance Review has put together An Interactive Virtual Panel on Healthcare Insurance to allow speakers and delegates to interact in real-time to learn and share their expertise from across the regions!
The COVID-19 pandemic is the defining issue of 2020. What changes in healthcare and insurance will it trigger?
Topics and live discussions include:
Panel: Coping with pandemics and global health emergency
NEW! Use of ventilator for multiple patients simultaneously - what insurers need to know
Panel: Employee benefits and challenges on mental and behavioural health issues amid the pandemic fears - the new roles of insurers and employers
How Intelligent Automation Maximises The Customer Experience
Thursday, April 30th 2020,
11:00 (IST) / 13:30 (SST) / 15:30 (ACST)

All insurance companies are focused on driving growth. Global research across the insurance industry has consistently shown that improving the customer experience can do far more to drive profitable growth than raising advertising spending or lowering prices.
The problem is, insurance companies often burden their workforce with repetitive and operational tasks, rather than channeling them towards more value-added, customer-focused tasks. Automating these processes can free this valuable resource and increase the pace of growth.
So how can insurance companies leverage automation to remove the barriers to growth and maximise customer experience? Find out by registering for a special webinar discussion, hosted by Wipro and AntWorks.
Sachiin Rai from Wipro will outline how a seamless insurance sales and service journey for customers can be achieved by leveraging robust automation (cognitive and robotic) solutions.
Ben Platts from AntWorks will detail how an Integrated Automation Platform, incorporating Cognitive Machine Reading (CMR), can enable insurance companies to extract complex data to drive the automation of multiple processes, from claims to underwriting.
 The webinar discussion will also focus on other subjects of concern to insurance companies, such as removing barriers to growth and achieving greater cost efficiency.
Ben Platts
Senior Director,
Sales Engineering,AntWorks
Sachiin Rai
Insurance Lead,
UK & Ireland, Wipro

Antworks Web Series
How customer centricity can help you stay in business
Tuesday, 28/4/2020
2.00 pm (Singapore Time)
Since mid-February COVID-19 has destroyed US$ 23 trillion in global market value. For businesses that continue trading, the future will bring significant challenges.

This revealing webinar draws from recent Kantar data showing how customer centricity and continuous social listening are key for brands to weather the crisis.
DEva Maureen Claravall
CX Domain Practice Lead PH / Group Head,
Client Business Partnerships
@Kantar Philippines
Regional Commercial Director
@
Kantar NASEAP


KANTAR Web Series
400+ Cyber Claims: Lesson Learned
Thursday, 23/4/2020
1:00 PM - 2:00 PM HKT

Timothée Grange will be sharing about 400+ Cyber Claims: Lesson Learned in 1-hour webinar, This session is open to all CII and MII members.


Speaker : Timothée Grange, Managing Director, GM Consultant Asia  
The Malaysian Insurance Institute (MII)
in collaboration with The Chartered Insurance Institute, Hong Kong 
Coronavirus in a connected and digital world. Exploring the implications for the insurance industry.
Thursday, 23/4/2020
4.00 pm
Coronavirus in a connected and digital world. Exploring the implications for the insurance industry.
Please fill in your details to register for this webinar. Upon successful registration you will receive an email invite along with instructions to join the webinar.
If you are a first time user give yourself a little time to download the software to access the webinar. You may want to enter 5 minutes before the webinar start to login and make sure everything is working well. If you cannot arrange for a good broadband connection you may prefer to use the dial in option that is available.
Please refer to our terms and conditions page for full privacy policy. https://www.the-digital-insurer.com/terms-conditions-tdi-webinars/
Rising Corporate Risks of Weaponised Fake News
Wednesday, 22/4/2020
2.00pm - 3.00pm
In the wake of the COVID-19 pandemic, fake news has caused fear, confusion, scams, and even panic buying. Corporations must appreciate the rising threats and risks of weaponised fake news to be better prepared to mitigate them.
This webinar aims to increase the awareness and understanding of the rising risks from weaponised fake news. Fake news erodes consumers' trust, disrupts business operations and can potentially damage corporate performance. This threat can be mounted almost immediately without warning, and scaled to quickly go viral with severe offline consequences that catches most organisations off guard. We will be looking into cases of known attack vectors employed by malicious bad actors including the hijacking of conventional corporate crisis responses to manipulate public/stakeholder perception, destroying/discrediting key stakeholder reputations as well as those with intention in eroding public trust through coordinated attacks to inflict maximum business damage.
Boards must quickly understand the rise and risk of fake news as a growing threat and consider urgent investments into sufficient risk mitigation measures for a better protected and resilient organisation. We are now fighting an 'infodemic', as well as a pandemic.
Watch the recorded session
Ryan Lim
Principal Consultant & Founding Partner,
QED Consulting, Singapore

ICDM Web Series
COVID19: Identifying hidden opportunities and navigating our business given the new normal
Wednesday, 22/4/2020
2.00 pm - 3.00 pm
Unprecedented global pandemic, disrupting life and economies around the globe.  What are we learning and how do we navigate to drive business opportunities?
This webinar will cover the following key areas:
Covid19 & the dynamic "new normal" of Malaysian customers: Identifying changing impacts - usage and behavior - of customers to various sectors/categories
Responding in time of crisis: Act Fast, Act Now : Leveraging the prevailing opportunity through consumer insights
Reaching out to the target audience during MCO : Learning from other markets, identifying the do's/don'ts' and effective channels during MCO
Tapping into the under-served market: Winning with Women segment: Women represent 51% of the population with increasing wealth and financial independence
Brought to you by MII in collaboration with Kantar Malaysia, the world's leading data, insights and consulting company that helps clients understand people and inspire growth.
Watch the recorded session
The Malaysian Insurance Institute (MII)
in collaboration with KANTAR
Navigating the New Normal of Work
Wednesday, 22/4/2020
1.00 am Malaysian Time
Join Trend Hunter's Chief Culture Officer, Jaime Neely, in an exploration of how the workplace must shift and adapt during times of chaos. In recent years, a call for unconventional methods of work has become increasingly urgent, with many opting out of the traditional office and into the gig economy. In the midst of volatility, even more transformation is needed to ensure the needs of the modern employee are met.

Register for this session and learn how to:
Transform your company culture to be more agile
Maintain employee engagement during times of chaos
Think on your toes as an employer
Jaime Neely
Chief Culture Officer
How brands are surviving the COVID-19 crisis in Asia Pacific
Thursday, 9/4/2020
11.00 am 
How brands are surviving the COVID-19 crisis in Asia Pacific
The uncertainty brought by the COVID-19 pandemic has highlighted how important it is to make decisions quickly. The situation is changing people's lives and its effects on the economy are already being felt across different sectors within Asia Pacific. For marketers this poses a number of challenges:
How are consumers feeling and what new behaviours are emerging?  
How are the specific COVID-19 challenges impacting on the wider health landscape?
What are the new shopping patterns and priorities and implication for retail channels?
How is media consumption and the advertising landscape changing?
How do you maintain your brand's health without being seen to take advantage of the situation?
With changing consumer behaviour, what will stick longer term and how can we plan for it?
Readiness, Response & Recovery
Wednesday, 8/4/2020
2.00pm - 3.00pm
Dealing with a pandemic like COVID-19, is uncharted territory for all of us. Coupled with uncertainty, fear and pressure to safeguard employee wellbeing and business continuity, leaders of companies are being tested beyond the ordinary as the decisions made today will determine the success or failure of their company or business.
How companies act and communicate in times of crisis will have a significant long-term impact on their reputation. Businesses need to assure their customers, business partners and suppliers, and at the same time, ensure employees are well informed of how the situation impacts them.
While the severity of this crisis and its long-term implications are still unknown, there are several steps companies and businesses can take to help improve the situation.
Watch the recorded session
Mark Worthington
ICDM Faculty and Managing Director
& Co-founder, Klareco Communications, Singapore

ICDM Web Series 
Virtual Briefing: Survival Skills in the Era of Pandemics
Tuesday, 7/4/2020
9.00 am - 11.50 am
As the COVID-19 outbreak rapidly spreads, Asia Insurance Review is organising this first-ever virtual briefing on Survival Skills in the Era of Pandemics. The briefing brings together leading industry speakers to cutting-edge insights on dealing with the business threats and opportunities posed by severe global health events. Presented in a convenient format, streamed video and completely online, you need not leave the office to benefit from today's most insightful thinkers.
This briefing is intended for all insurance industry players who need a complete – and trusted – briefing on the threats, opportunities and realities of doing insurance business in very difficult circumstances.
Presentations and breakout sessions will include top industry presenters covering topics such as:
How leading insurers should respond to a business downturn caused by a supply-side shock
Life insurance readiness
Extreme mortality risk/extreme mortality events arising from pandemics. What large-scale loss of life looks like on the books of a life insurer
Health insurance readiness
When health insurance proves to be inadequate. Too little too late
General insurance readiness
When business interruption is sudden, massive and potentially terminal
Insurance asset manager readiness
How to immunise the investment portfolio of an insurance company against sudden and rapid loss of confidence in traditional asset classes
Insurance brand management readiness
Surviving a reputational catastrophe in the event of a pandemic
Innovating Through Chaos
Tuesday, 7/4/2020
1.00 am Malaysian Time
I'd like to invite you to a free innovation webinar / virtual innovation keynote I'm hosting on my birthday, April 7th. The webinar is about innovating through chaos, being recession-ready, and tactics for thriving in times of uncertainty, based on my new double-sided book: Create the Future.

In times of chaos, it is easy to get caught in the doom and gloom, and our current time is certainly not short on doom and gloom. However, your consumers' needs are evolving by the minute, and this time period is going to cause a great shakeout between companies that adapt and those who do not. I'll be sharing some battle-tested tactics from those that have navigated chaos before you to help you plan for whatever comes next.
Watch the recorded session
Jeremy Gutsche
Chief Executive Officer